Smart Cities and progressive governments don't just manage the data surrounding them, they make it a cornerstone of their strategy and service to citizens.

Traffic Management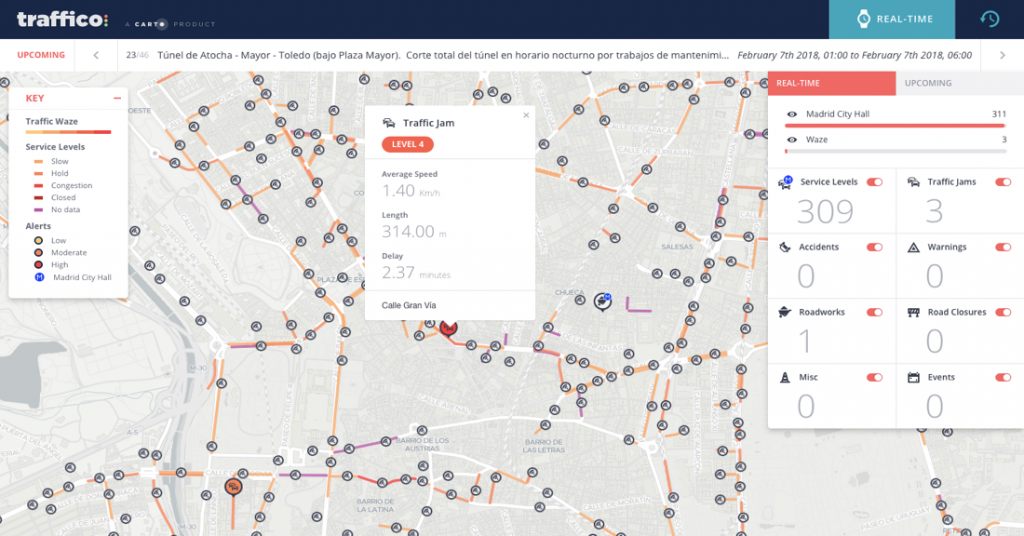 Commuter behaviour is changing in the face of increasing congestion and pollution. Trends such as crowdsourced traffic apps and embedded vehicle connectivity mean that urban planners and traffic managers need to capture the value of these new location data sources.
Smart Cities & IoT
Cities and governments globally are racing to make better use of actionable data when making decisions. Because so many government activities are inherently location-centric, accessing and understanding location-related data is critical. Citizens and stakeholders demand it, and agencies are being held accountable to the data they manage.
Citizen Services
Local governments exist to serve citizens, and citizens expect the same innovation from their governments as they see in society around them. More often than not, this means using location information to transform the way they deliver service and demonstrate their performance.
Public Participation and Open Data
Open Data has changed the way citizens see government, but leaders must be strategic in how they harness that data to solve specific problems. Since most open data is location-based, geospatial analysis is more crucial than ever. The best governments manage their location data and deliver it in an actionable format to their citizens, developers and employees. Make accountability easy with CARTO.
Urban Planning
Location data is crucial in planning more efficient and sustainable cities. Spatially analyzing mobility and citizen behaviour with internal and external data is crucial in order for urban planners to succeed in shaping the future of their cities with data-driven decision making.
Fleet Routing & Tracking
Optimize your fleet's performance, reducing costs and optimizing routing using Location Intelligence. Whether it's road maintenance, waste disposal or healthcare visits – harness the power of CARTO to track your team, saving your organization valuable time and money.
Related subject
10000

Turn Location Data into Business Outcomes CARTO based solutions adapted to your business For Business Analysts Escape the GIS Handcuffs Solve spatial challenges with third party location data streams, advanced spatial analysis, and interactive self‑service Location Intelligence applications. Put your location data to work to optimize business…

10000

GeoPoint has the human resources and know-how to present services and solutions in the area of solving territorial management problems. Geographic Information Systems for Territorial Management - Public Administration Topographic mapping and detail topography for project development; Dynamic wind models; Hydrological models; Relief models (3D, slopes, sun exposure, shade); Models…

10000

Routes optimization in organizations can take many forms depending on the type, maturity, dimension and many other factors that characterize them. What are you looking for? 1. Integrate Location Intelligence into your systems 2. Access a full of functionalities software ready to make simulations and mobility studies (Desktop) 3. Access…